Check out the infographic below to learn more about all possible membership tiers at the Uni-Verse.
If you have any questions at all or would be interested in donating and/or becoming an official/sponsoring member, please contact our Treasurer at treasurer@universe.univie.org anytime 🙂
(Oh, and you can find more information on our monthly newsletter below the infographic!)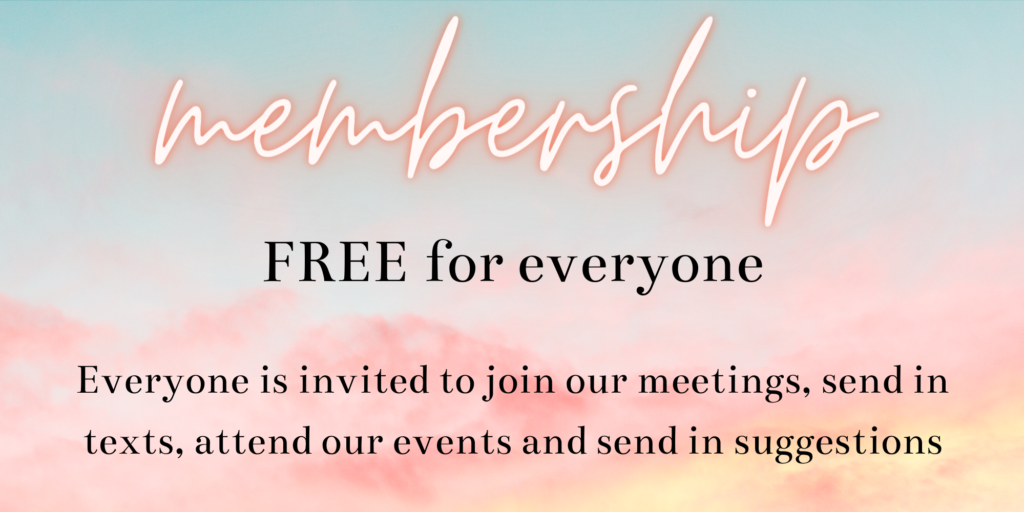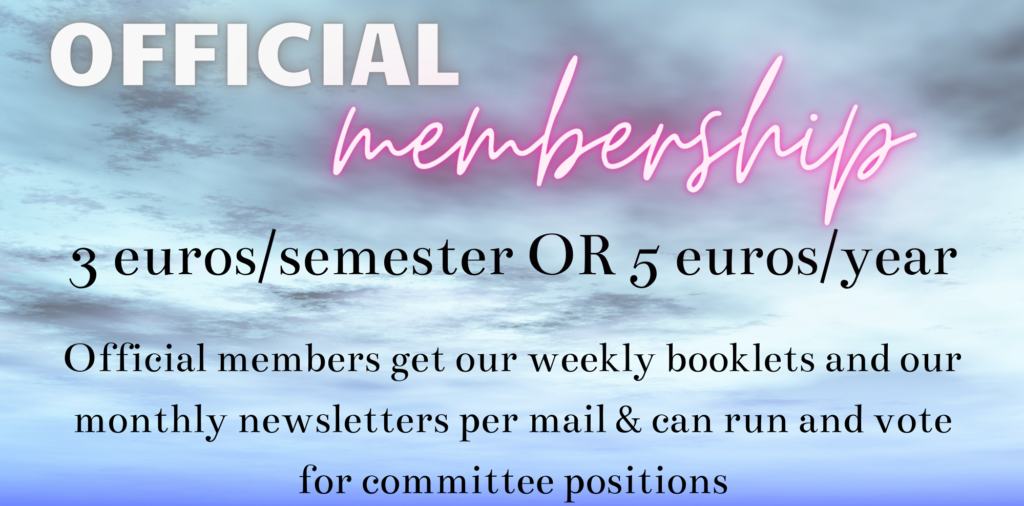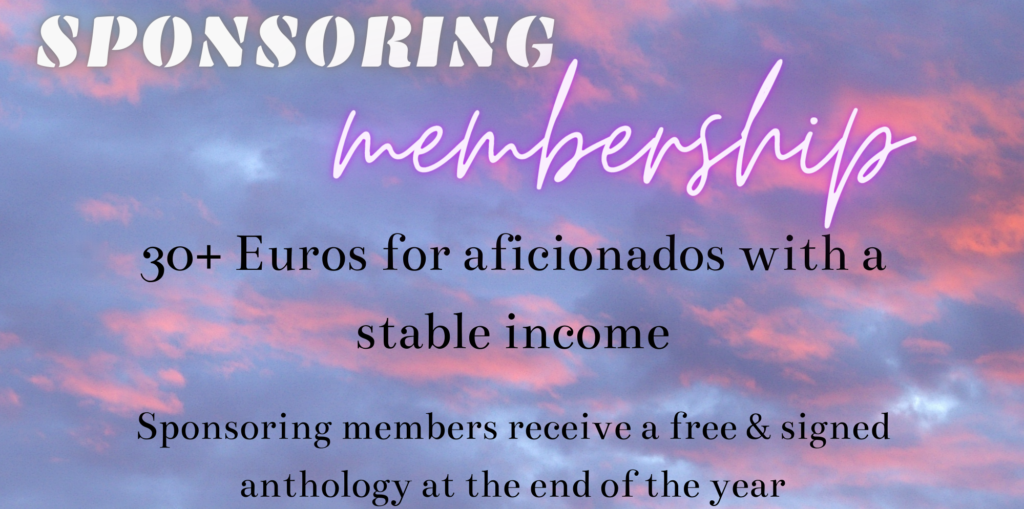 Our monthly newsletters are chock-full with news about art events in and around Vienna, book & writing competition recommendations, as well as an update on the Uni-Verse & all other Creative Writing Societies in Vienna. Below, you will find an example of one of our newsletters, this one being from September 2020:

September fattens on vines. Roses
flake from the wall. The smoke
of harmless fires drifts to my eyes.

This is plenty. This is more than enough.
– September Song, Geoffrey Hill
G'day, fellow autumners!

If you haven't yet had the opportunity to really indulge in the autumness of it all: this is Marie, broadcasting to you from Styria in a grandma-knitted sweater, and this is your opportunity to go hard on the cosy. Grab a cup of cocoa or tea, put on this A+ vintage playlist* (https://www.youtube.com/watch?v=guJvelRueDE), slice an apple into a pan, drizzle it with butter and cinnamon, gather your friends round a bonfire in your mind, and we're good to go** 🙂

*that I may have been listening to since July
**haunting the woods with Hozier is, of course, a viable alternative

AGM VERY, VERY IMPORTANT: Mark Sunday, September 27, in your calendars because it's time for the Uni-Verse AGM! At 4PM, we'll gather round the aforementioned bonfire (exact location tba) and hold counsel on where to set our intergalactic sails for next year.
Every member of the Committee will hold a short presentation on the stars they've unleashed into the Uni-Verse in 2019/2020 and, if they would like to man the crew for another year, will speak the stars they'd like to fashion in 2020/2021 into existence.

We would love to see you there! Every official member (which you either are or can become for €2) can propose new projects, vote, and run for any position – so if there's something you'd like to us to do, this is the moment to let us know about it 🙂

Starting tomorrow, you'll be able to find an overview over all available Committee positions on the website & Facebook.
"silence."
The fantastic news: Facultas is moving to a bigger commercial space on campus in two weeks, so our release event could be even bigger (and, given corona, even safer) than in the last two years! 🎊
The not-so-fantastic news: "Could" – because corona is overstaying its welcome (and has failed to realise that it was never welcome in the first place), so if the numbers are still worrying in two weeks, Facultas and the Committee will begin work on an online event instead. We do want everyone to be able to attend the party, and we want everyone there to be safe.
Either way: we will celebrate your wonderful contributions to "silence." very, very soon and we will celebrate BIG!

Picnic Potluck
Again, very dependent on the `rona, but if things are looking up by this weekend, Holly will be hosting a cosy autumn picnic at Burggarten this Saturday, 3PM. There shall be blankets, there shall be food, there shall be hygiene, and (as the Uni-Verse constitution legally demands) there shall be banter aplenty.

(*knocks on wood*)
Sunday Writers' Club: Most other writing societies are still slumbering, but the SWC is back in town! Kicking it off last week with a meeting at Café Diglas, the Club is eager to get your brunching, munching and writing muscles back in shape.
(Also keep an eye out for their soon-to-be-put-online new website. It'll be a pumpkin stuffed with cool, new writing opportunities!)

– Sun, Sep 20, 10 AM. Café Rüdigerhof, Hamburgerstraße 20.
– Sun, Sep 27, 10 AM. Café Votiv, Reichsratsstraße 17.
'Tis time for three hand-picked competitions to light that bonfire in your writing sauna hut:

HerStry is dedicated to collecting real-life stories from women all around the world – the kind that usually "don't make it into the history books." The theme for September is "Resilient Women", the entry fee is 3$, and if your story gets accepted, you get 20$.
Submissions from women of colour and LGBTQ+ women are encouraged.

Send in a poem of under 45 lines to the Troubadour International Poetry Prize 2020 and run the delicious risk of winning 2,000$. The poems will be judged by American poets Mark Doty, and Mona Arshi.

Face an unusual challenge at the Owl Canyon Short Story Hackathon: you'll be given the first and last of 50 paragraphs and have to write the ones in between! The submission fee is 25$, winners receive up to 1,000$ and will be published in anthology.

(Two bonus competitions: If you're already feeling festive, check out this ghost story writing competition for a taste of Halloween and this Christmas competition for some holly-jolly goodness)
Vienna is just about bursting with events this September!
Here's a cheese-and-wine platter of events we think might intrigue you most:

Music: Light a chocolate cigarette & catch the blues at the Vienna Blues Spring (extended throughout autumn) in the cult classic restaurant Reigen, or dress up warm and fancy and lean back at St. Stephen's Cathedral to enjoy Vivaldi's Four Seasons live (I tried it & it's magical).

Visual art: Commercial galleries and solo artists cross paths at Parallel Vienna, which is taking place in parallel to this year's Vienna Design Week and curated by. From September 11 onward, you can get a glimpse into current events all over the world at the exhibition of the World Press Photo Contest at WestLicht.
(Also: Our very own Marlene Lahmer will be exhibiting her work at the Vienna Contemporary from September 25-27!)

Food & drink: On September 26 & 27, go on a culinary journey at the European Streetfood Festival or make use of the many Heurigen where it's "ausg'steckt", meaning that they're offering Austrian delicacies & home-brewed alcoholic beverages at this time of year.
Thank you so much for joining me on this September walk through reality and fiction. I'll leave you with some of my current rediscovered favourites – may they bring you the same tingly sweet-sour sensation that berry marmalade leaves on my tongue:

Book: Howl's Moving Castle
(yep, it was a book first! This one goes out to Caroline & Tessa)
Movie: Ratatouille
Series: The Great British Bake-Off
Tea: Cocoa, definitely
Food: Good ol' Knödel with everything

Off to climb a mountain and roast pumpkin flowers,
forever yours,
Marie

PS: Also check out the full version of "September Song" if you can. It's sad and historical, but autumn is, after all, melancholic at times.