Beschreibung
Following last year's "Pocket Universe #1: beginnings.", this is our "Pocket Universe #2: momentum." – our second book in what will hopefully become a series that stands the test of time: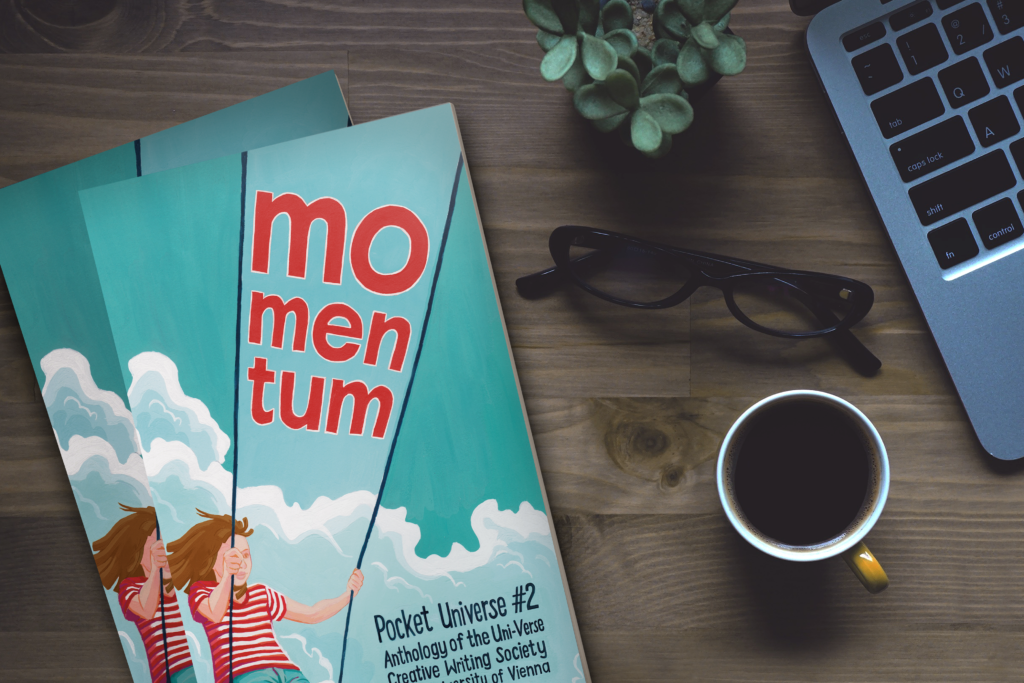 Where can I get it?
You can get your copy at
– Facultas am Campus
– phil
– Shakespeare & Company
Neat – but what, like, is it?
Each year, we choose the best texts and illustrations artists send in to us. This year, we received over 90 (!) submissions and, after a rigorous selection process, ended up with a vibrant mix of 40 authors and 5 artists. Each of our books is a pocket universe of different genres, styles and themes unto itself and since the first half of this one is dedicated to "momentum.", this collection is particulary …moving (*ba-dum tss*).
We collaborate with Facultas to print these books and each pre-sale week is capped off with a fantastic and, for our standards, unusually fancy reading at Facultas am Campus. It is the one event of the year for which we actually invest in a professional photographer and pose for glamour shots, so check those out over here!
How much does it cost?
Each copy costs €10 and all proceeds go towards our society budget -that means that that this is how we finance all of our special events, workshops, etc. By buying a copy, you're basically buying a free picnic or workshop for yourself further down the line! 😀
---
Dieser Verein unterliegt der Gemeinnützigkeit gem. (§ 35 Abs. 1 BAO) und ist von der Umsatzsteuer befreit gem. (§§ 34 ff Bundesabgabenordnung).
This association is subject to the non-profit character acc. to (§ 35 Abs. 1 BAO) and is exempt from the value added tax acc. to (§§ 34 ff Federal Tax Code).