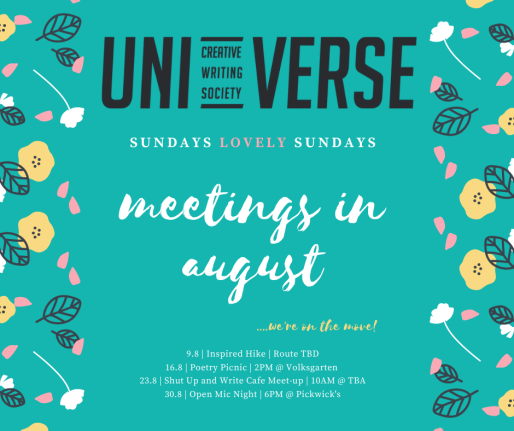 Instead of our usual weekly Wednesday meetings at The Highlander, this month we're on the move! We've got a calendar of activities to motivate and cultivate your creative side. Get inspired, share ideas, put those words on the page and get ready to read. Meet us out and about on Sundays in August for a variety of events:
 9.8 Inspired Hike | 10AM @U4 Heiligenstadt — Stadtwanderweg 2
"The clearest way into the Universe is through a forest wilderness." -John Muir
16.8 Poetry Picnic | 2PM @ Volksgarten
"The earth laughs in flowers." -Ralph Waldo Emerson
Our special August meetings are back with a picnic in Volksgarten on August 16! ✨ There'll be picnic blankets, poetry games, and plenty of opportunities to meet people interested in creative writing. A little bird whispered in my ear that the committee is going to provide some snacks. Nevertheless, bringing your own food and drinks is not only allowed but highly encouraged! 🍓🧃🌳
You can join the ride starting at 2PM on August 16 at Volksgarten, near Theseus Temple. There's no need to register and you can also drop by later.
*************
Apart from food and drinks, please bring
– pen(s),
– paper and
– a poetry book that you like! 📙
The latter will be your key to a round of poetry speed dating to find new inspiration and to get to know new poets in print!

23.8 Shut Up and Write Cafe Meet-up | 10AM @ TBA
"There is no greater agony than bearing an untold story inside you." -Maya Angelou

30.8 Open Mic Night | 6PM @ Pickwick's
YES! Open Mic Night! Read, listen, drink, eat, meet, greet, think, play! All are welcome.
All all important info and details will be announced here prior to each meeting. For further details be sure to also check out our Instagram page, Facebook page and Facebook group.
If you have any questions, you can reach us at writing@universe.univie.org. 🙂